Lloyd Morgan Lions Clubs Charitable Trust
About the "Lloyd Morgan Lions Clubs Charitable Trust"
The Lloyd Morgan Lions Clubs Charitable Trust benefits sick, disabled or distressed people in New Zealand and the Pacific Islands. It helps in the field of education as well. Aid is given by means of a grant or loan to Lions Clubs, other organisations or individuals.
The Trust has been able to assist with many appeals and projects, a major one being grant assistance toward the establishment of the New Zealand Liver Transplant Unit. Grants and loans continue to be made in support of all manner of Lions humanitarian projects. The Trust needs your continued support to enable it to reach its full potential. Please help us to help you to help others.
Lloyd Morgan
Lloyd Morgan was introduced to Lionism in 1960, when a friend took him to a meeting of the Wellington (Host) Lions Club, where he was impressed with the fellowship that existed among the members. Soon after the Club sponsored a new Lions Club in Lower Hutt, and Lloyd was asked to join. He accepted, and proudly became the new Club's Charter First Vice President.
Over the next sixteen years Lloyd followed a path of accepting steadily increasing responsibilities, culminating in his election as International President at the International Convention in Montreal, Canada, in July 1979.
His rise in Lions was rapid, but Lloyd was more than happy to attribute this success to his wife Ngaire, whom he married in 1953. "It is because of her encouragement that I have come as far as I have in Lionism" he once asserted. "She loves people, and truly enjoys witnessing the happiness Lions bring to others.
Lloyd was a true "people person" with an engaging personality, who sadly passed away in August 2001. He was an inspiration to all who knew him, and thoroughly deserved the high degree of respect and admiration accorded him by members of the Lions Family and at all levels of our International Association.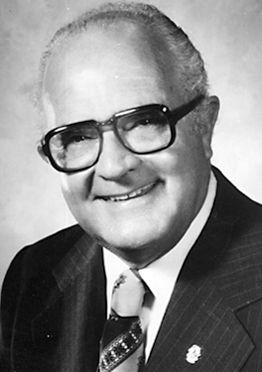 The beginnings of the "Lloyd Morgan Lions Clubs Charitable Trust"
It had been the custom, at the end of an International President's year, for his Multiple District to present him with the keys of a new car. International President Lloyd Morgan had always made it very clear that he did not want a gift.
While driving to the Multiple District Convention in Dunedin, PCC Chairman David Gault suggested to Alex Grieve and PDG John Armstrong that a Charitable Trust in Lloyd's name would more appropriate.
The two Lions who convened the fund raising efforts were PDG John Armstrong (North Island) and PDG Ray Carter (South Island). Clubs donated the initial capital of over $36,000 and the Trust was duly presented to Lloyd Morgan by Council Chairman (1980-1981) Pat Ryan at the final plenary session of the International Convention in Chicago in 1980.
How can you Help?
There are a number of ways you can support your Trust, by personal contribution, through Club contribution, by obtaining Benefactor Support or by remembrance contributions to honour former Club members now deceased. Clubs donating a minimum of $10 per member are awarded Club Patches/Year Tabs in recognition of their support of the Trust.
---
Categories of Honours
Life
This is the highest honour and is available to all Lions and member of their families and, at the discretion of the Trustees, such other persons whose contributions to Lions deserves special recognition. Framed Certificate & Lapel Pin.
Honoured
Honoured recognition is available for award to Lions and to other members of the community, to include posthumous award, to recognise outstanding service to Lions or the community at large. Framed Certificate & Lapel Pin.
Benefactor
Benefactor recognition is available to any organisation, family or individual that has supported the principals, ideals and objectives of the Lloyd Morgan Trust. A Framed Certificate is issued.
Company Benefactor donation $600
Club wishing to recognise an individual, family or company - donation $300
Friend of the Trust
Available to all Lions and partners or those who wish to show their belief in the value of the Trust. Lapel pin is issued.
Honour Roll
The Honour Roll is available on this website and also displayed at District and Multiple District Conventions. The roll is open to all those who have been Lions, Lionesses or members of their families. The Roll of Honour perpetuates the memory of those who gave so much of themselves to their Club and the welfare of others. When requested a framed certificate is presented.

Contributions for entry to the Honour Roll are left to the Clubs discretion but should be of an amount that will reflect the deceased members value and contribution to his or her Club.
Board Meetings
The Board meets twice per year, in February and August.
Day two of the August meeting is the Trust AGM.
All Lions and visitors are welcome but please advise our Trust Chairman of your intention to attend (email kenderkb(at)xtra.co.nz)
10/11 August 2019
8 February 2020
8/9 August 2020
13 February 2021
14/15 August 2021
District Trustees
202D PCC Joyce Raven
202E Paul O'Connor
202F PCC Graeme Wilson
202J PCC Graham Edge
202K Peter Burch
202L Paul Reid
202M Richard Maddren
THE OPERATION OF THE TRUST
Capital Fund
Donations to our Trust go to building our Capital Fund. The Capital Fund cannot be touched so it grows each year. Already our Capital Fund exceeds $4 million. The larger we can grow our Capital Fund the greater the income available for Lions Clubs projects.
Income fund
Income generated from our Capital Fund is available for clubs to use to assist with funding projects by way of grants or loans.
Managed fund
Where Lions Clubs have funds set aside for charitable purposes in an incorporated entity that has been registered under the Charities Act, the Trust is prepared to provide banking and investment services in respect of such funds. It is important to note that there will be no intermingling of the funds of such a trust with the assets of the LMLCCT. Simply stated, the LMLCCT would act as banker managing the funds on instructions from the entity that established the fund in the first place.
If any Lions Club wishes to make application for the management of such fund, the Club should in the first instance request the prescribed application form from the LMLCCT Treasurer.
Special Trusts
These are monies that have been raised for a specific charitable purpose and are kept separate from the LMLCCT's main Capital Fund. The ownership of these funds is vested in the LMLCCT. This is by way of a formal legal vesting agreement with the Special Trust which includes details of the fund. Where a request is made for use of any of these funds the application is considered by Trustees of The Lloyd Morgan Lions Clubs Charitable Trust (LMLCCT) in the same way as they would when dealing with Grant or Loan Applications from our general Income Fund. In some cases both the capital and interest of the Special Trust fund is able to be disbursed to meet such requests while there are some instances where only the income is available.
The investment of these Special Trusts is undertaken by the Finance & Investment Committee of the LMLCCT.
Lions Clubs contemplating the use of this service should, in the first instance, discuss their intentions with the LMLCCT Legal Counsel
Other Information
LMLCCT has a policy of offering these services without cost to itself. That being so, it would charge a fee equivalent to 8% of the income derived from the invested money or such additional amount to cover the cost of providing the service.
If the purposes and objects for which the funds were raised by such a registered trust have been satisfied or if the objects of that trust fail for any reason, then subject to agreement between the parties or in pursuance of any Court order, the surplus funds of that trust can be transferred into the Capital Fund of the LMLCCT.
GRANTS AND LOANS
Applications by clubs for grants or loans must be made on the approved Trust Application Form which is available from all District Trustees.
Clubs must demonstrate commitment to their project by careful financial planning and be able to show why a loan or grant is necessary to complete their project.
Note
The Trust has charitable status under all Tax Acts. A receipt is issues for all donations upon request.
Application forms for grants or loans, or to deposit special funds, are available from your trustees on request.
All Grants and Loans Applications MUST be forwarded to your District Trustee who will pass on the same to the appropriate committee of the Trust Board.
Tax
Individuals can claim a tax credit (formerly a rebate) of 1/3rd of qualifying cash donations they make to LMLCCT, up to the level of their taxable income.
Companies can claim a deduction for cash donations they make to LMLCCT, up to the level of their net income (previously the maximum a company could deduct was 5% of its net income).
Note: If you are claiming a donation tax credit you must have a receipt from the Trust Treasurer.
Publications/Downloads
Download: A Guide to the Trust
Grants and Loans Register