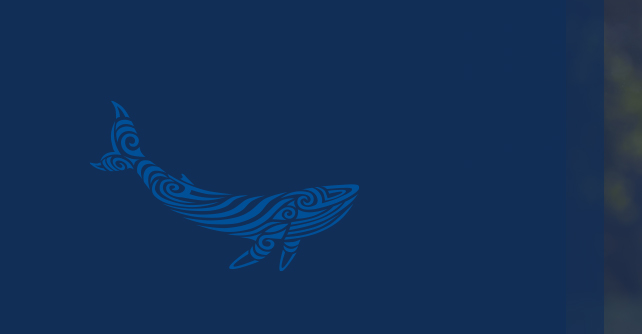 International Peace Poster Contest
For over three decades, Lions have been sponsoring a very special art contest in schools and youth groups. Creating peace posters gives children everywhere the chance to express their visions of peace and inspire the world through art and creativity.

The contest is for 11- to 13-year-old students – mainly they will be Intermediate Schools students, but others including home schooled students can enter. You must enter with the support of your local Lions Club.

THE 2023-2024 CONTEST THEME
"Dare to Dream"

To a young person, a dream isn't just a wish, hope or desire — it's a path, a goal, an ambition. But achieving that dream takes hard work. So, this year, we're asking young people to show how they'll turn their dream of a peaceful world into reality.

Your local Lions Club will provide A2 size art paper to express your view on how service to others helps deliver peace. They will provide a date for their local competition in your community and provide prizes and certificates for the selected winners.

The rules are simple and are attached. There is no cost to the children taking part and the Lions will make sure that you efforts are rewarded.
Note that students assessed as having 'Low Vision' can enter the Peace Poster contest if they can complete the artwork as their own work and in compliance with the Contest Rules.
---
Download the Peace Poster Contest Deadlines
See the results of 2021-22 MD Peace Poster with illustrations
---
Information for Lions Clubs
The club will select one Club winning entry to go forward to the District final. Clubs must have a fully completed Peace Poster Kit self-adhesive form placed on the rear of their poster. Only ONE kit is required to be purchased by each Club.
Clubs are to fund prizes from their project account for their local competition and may award certificates and prizes to as many contestants as they wish. ONLY one entry is to come forward from Clubs to the District Governor from each Lions Club.
A District winner will be selected and passed to the MD202 Council Chair who will arrange selection of the 'New Zealand' (MD202) winner to go to Chicago, USA for the International Final.
Your club may want to provide the applicants with a club form to collect the applicants information. A template is available here.
Download the application form for each individual entry at club level
Order a Peace Poster Contest Kit
Lions Clubs are to purchase ONE Peace Poster Kit from the MD202 National Office. This kit contains a sticker and entry form that is to be fully completed and placed on the rear face of their Club winning entry for submission to the District Governor.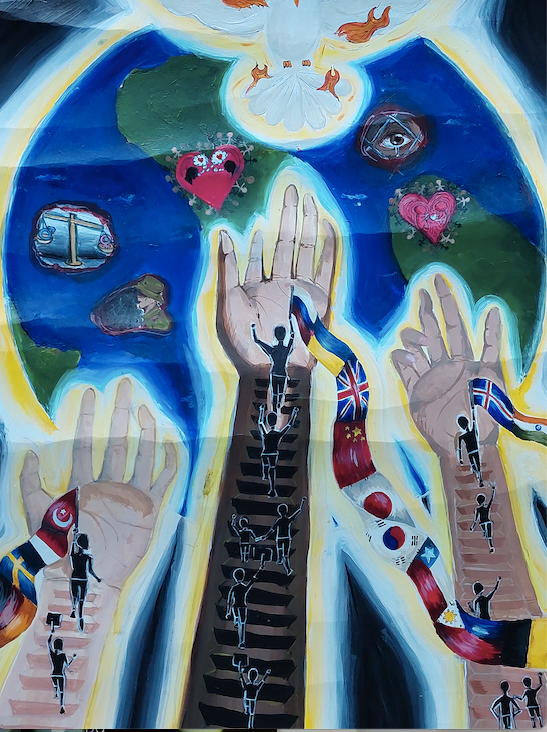 MD202 1st Place 2022-23:- Catalina Camero, Year 8 from Campion College, Gisborne,
Sponsored by Gisborne Wainui Lions Club, District M "Journeying to a world of freedom with empathy, equity and selflessness'.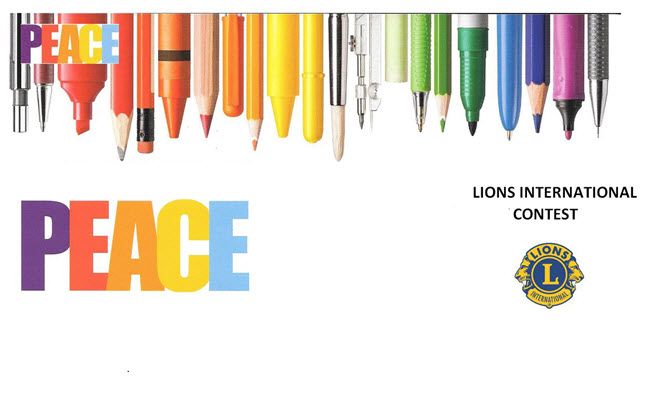 If you would like more information, or to enter the Peace Poster Contest, please contact your local club. Locate it here
Below are some previous years entrants and winners.
Top Row:- Peace Prize 2022-23 District E, Peace Prize 2022-23 District F, Peace Prize 2022-23 District D, Peace Prize 2022-23 District K, 2nd Row:- Peace Prize 2022-23 District L, Peace Prize NZ 2021-22 1st, Peace Prize NZ 2021-22 2nd,
3rd Row:-Peace Prize NZ 2021-22 3rd