Child Mobility Foundation
We Serve for the children, so they may walk.

The Lions Clubs New Zealand Child Mobility Foundation (CMF) supports children who suffer from Cerebral Palsy, Spina Bifida or similar disabilities. Providing help for children with mobility problems.
It is the first place of call for parents, caregivers GPs and agencies seeking to help the children attain mobility and physical improvement, ensuring correct protocols, procedures and policies are followed. CMF offers guidance to families and Lions Clubs on how to proceed with having a child assessed and path to follow and how to finance equipment - CMF does not fund directly, it has the knowledge and networks to help with the purchase.
The Foundation hires specially trained experienced Orthotists and Physiotherapists to meet the needs of these children. CMF finances the regular Mobility Clinics where the children are assessed, fitted to or have their Hart Walkers and devices adjusted,helping body and mind to develop.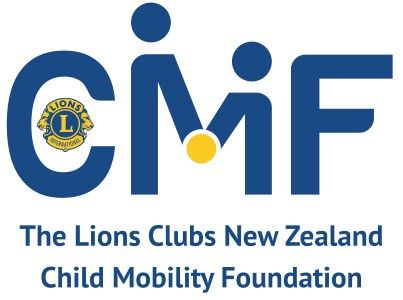 David Hart, a trained medical engineer working in the United Kingdom, developed the Hart Walker in the 1980s. It has the potential to help thousands of children with a disability to walk. David's motto is: "May every child walk with pride, for it is their right."
Although the Hart Walker looks simple, it has up to 1,000 working components. It combines a bracing system used to promote proper body alignment with a walking base. Elastic cords are added to achieve an alternating walking pattern and can be adjusted to address unbalanced muscle abilities. The walker has many adjustments in the bracing system as well as in the walking base, enabling it to "grow" with the child. The base has four wheels to start but can be changed to a two-wheeled base to no base at all as balance and function improve.
The Hart Walker provides hands-free mobility and allows children the opportunity to experience walking, often for the first time in their lives.
Health benefits can include improved circulation, respiration, digestive system, muscle control and improved balance and co-ordination.
Social benefits include a positive personality change, increased self esteem, better interaction with others and better social communication.
Once children is used to the walker, they can become very manoeuvrable.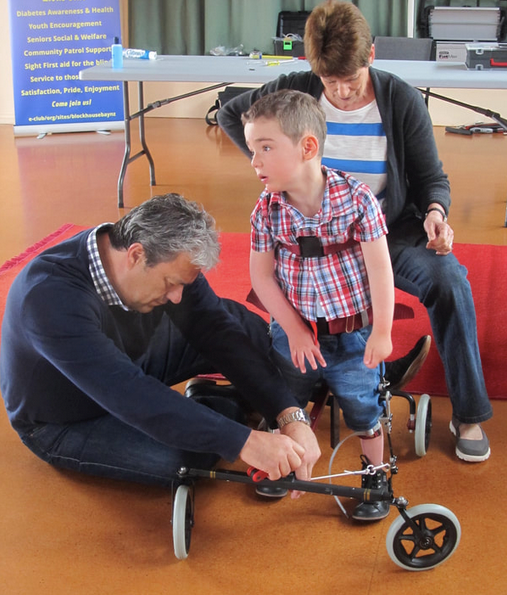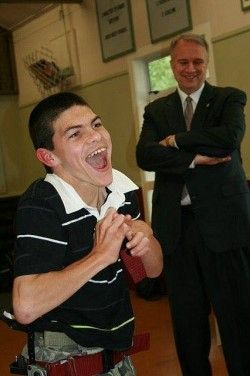 The difference a Hart Walker makes in the life of a child with cerebral palsy can hardly be imagined. They are transformed from dependent to independent, in a flash; from a life spent mainly indoors to something more closely resembling a "normal" childhood.
In 1998/99 grandparents of a child with cerebral palsy*, who happened to be members of the Titahi Bay Lions Club, were told of this invention and took their little boy to Sydney to be fitted. It was highly successful.
In 2000 a remit was passed at the Lions' annual convention held in Wellington which created the Lions Hart Walker national project. In 2010 the Executive Management Committee reviewed the project and the Child Mobility Foundation was formed.
*Click here to see the 1998 late Paul Holmes interview and other updated highlight.
The Hart Walker receives no government funding in New Zealand and therefore relies on the generosity of us all. The cost includes shipment, equipment, two clinics and the first pair of boots. Families are invoiced for costs after that and clinic fees are set at the current costs a visit. The cost of boots and repairs are additional.
Lions Clubs to date have rallied behind the Hart Walkers and helped those in need to fundraising in New Zealand.
We have a proud history with the Hart Walker project. Over nearly 200 children have been fitted with a walker since the project began and we are currently working with many throughout New Zealand as the disruption from Covid subsides.. Children with disabilities need Lions to continue to help and get assistance from the wider community. Their families are very grateful for the extra support, and for people involved it is truly rewarding.
We do assess other mobility devices for children with disabilities to see what is available and at what cost.
The Foundation is grateful to the many Lions in Clubs throughout New Zealand who have organised Walks for Kids, individual Lions, friends, supporters, and anyone else who has contributed to the Child Mobility Foundation to help it carry on the dedicated work of helping our wonderful children.
A Mobility Clinic in action
Matteo's Journey-From wheelchair to stand alone
---
You can easily help make the difference
At this stage, we are solely reliant on donations from Lions Clubs and would welcome donations from the general public, commercial enterprises and trusts.
Whether you are a parent or caregiver seeking help, or a Lions Club looking for information on how to make a difference to a child, just email the Child Mobility Foundation and we will help find a solution.
---