Whenever and wherever disaster strikes, Lions are often among the first to offer aid. And the Lions Clubs International Foundation is right there with them, ready to support their efforts with funding assistance through global disaster relief programmes.
There When the World Needs Us

Working together with local Lions and Lion leaders, we assess urgent needs and quickly deliver aid to disaster victims. Lions know that a disaster can affect anyone's community, whether it's halfway around the world or right at home.
When natural disasters strike, Lions are among the first to offer help. With a disaster grant, they can do even more for communities devastated by hurricanes, floods, fires and other major events.
Since July 2021, LCIF has awarded 55 disaster relief-related grants totaling US$1,730,948.
90% of all natural disasters are water-related.
25.3 million people are displaced each year by sudden disasters.
Annual economic losses are estimated at US$250B-US$300B.
[Source: United Nations Disaster Assessment and Coordination]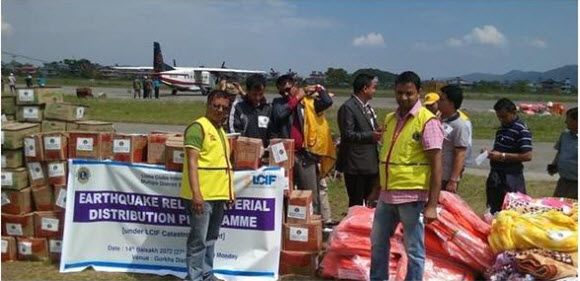 Emergency Grants
Thanks to Lions ongoing support of LCIF, Emergency Grants are available to provide for immediate needs including food, water, clothing and medicine. We have learned from experience that when disaster victims receive aid quickly, it can help provide the strength needed to survive shock and loss – offering hope for the future.
Major Catastrophe Grants
After immediate needs are met, victims of disasters are not forgotten. We remain committed to the important process of rebuilding homes and lives, often long after a disaster occurs. Through major catastrophe grants, LCIF helps with long term reconstruction projects, allowing people impacted by a disaster to return to their lives.
New Zealand has its Share of Disasters - and LCIF is there to assist
We see the effects of devastation every day. Sometimes, we live them. Such was the case for those in the path of New Zealand's Kaikoura earthquake, which announced itself shortly after midnight, disturbing far more than simply the night's sleep. By the time the 7.8 magnitude quake had spent its energy, it had created a 160km rupture that shred State Highway 1, swallowed homes, triggered tsunami warnings, dislodged railways, induced massive landslides, stole lives.
---