Whenever and wherever disaster strikes, Lions are often among the first to offer aid. And the Lions Clubs International Foundation is right there with them, ready to support their efforts with funding assistance through global disaster relief programmes.
There When the World Needs Us

Working together with local Lions and Lion leaders, we assess urgent needs and quickly deliver aid to disaster victims. Lions know that a disaster can affect anyone's community, whether it's halfway around the world or right at home.
More than US$118 million for disaster relief programs worldwide
Mobilized US$6 million for Haiti earthquake relief
Mobilized US$15 million following South Asia tsunami
Mobilized US$5 million for Hurricane Katrina projects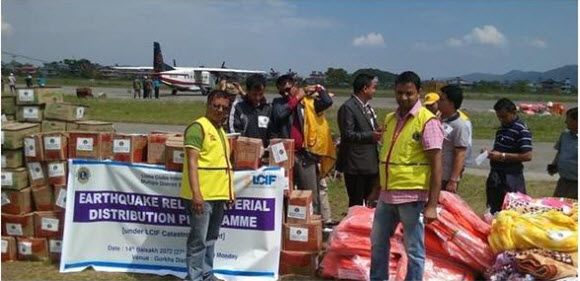 Emergency Grants
Thanks to Lions ongoing support of LCIF, Emergency Grants are available to provide for immediate needs including food, water, clothing and medicine. We have learned from experience that when disaster victims receive aid quickly, it can help provide the strength needed to survive shock and loss – offering hope for the future.
Major Catastrophe Grants
After immediate needs are met, victims of disasters are not forgotten. We remain committed to the important process of rebuilding homes and lives, often long after a disaster occurs. Through major catastrophe grants, LCIF helps with long term reconstruction projects, allowing people impacted by a disaster to return to their lives.
---